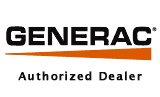 For more info. on Generac products, please click here.
We are a PowerPro Elite Generac Generators, serving Maine and New Hampshire.As of Januarary 1, 2015 we are no longer doing electricial work.

We are fully insured and licensed in Maine and New Hampshire.
Our services include:
Generac Generator installation
Generac Generator maintence and warranty work
We provide FREE ESTIMATES...give us a call or fill out the form on the Request an Estimate page.