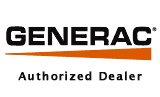 For more info. on Generac products, please click here.
We are a PowerPro Premier Generac Generators, serving Maine and New Hampshire.

We are fully insured and licensed in Maine and New Hampshire.
Our services include:
Generac Generator installation
Generac Generator maintence and warranty work
We provide FREE ESTIMATES...give us a call or fill out the form on the Request an Estimate page.